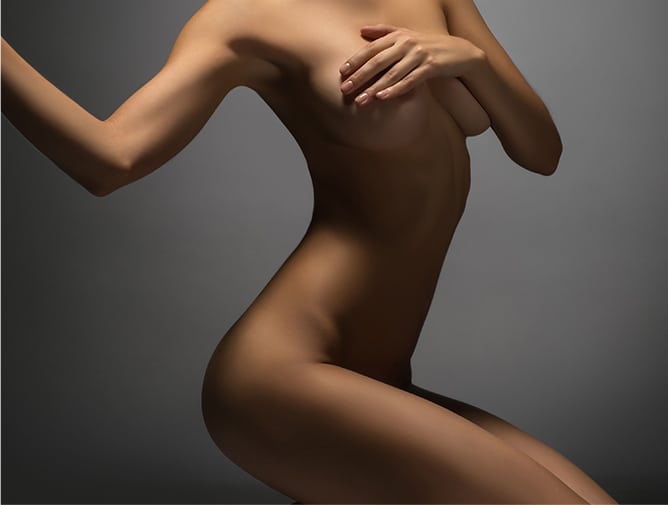 Our world has changed. If you are in the 35-50 age range, you have probably reached the age where your children have grown up and you have free time to take care of and nurture yourself, you want to enjoy life and can now indulge in everything it has to offer. Our perception of our body has changed and the appearance of our bodies occupy a more significant place in our lives. Today we understand that we deserve to look exactly the way we dream of, despite pregnancies, births, breastfeeding and hormonal changes. After years of focusing on raising kids, now it is time to take care of you with a 'Mommy Makeover'.
The term 'Mommy Makeover' comes from the United States of America, and quickly caught on here in Israel.
A plastic surgery procedure focusing on the breasts and abdomen. The purpose of this surgery is to restore you to your beautiful, youthful, and natural female figure, just as it used to be before pregnancy.
The surgery combines breast shaping, lifting and augmentation or lifting and reduction, a tummy tuck and liposuction. Sometimes surgical procedures on the thighs and buttocks are also combined, as well as eyelid surgeries, and in most cases, scars from Caesarean sections can also be repaired in the same surgery.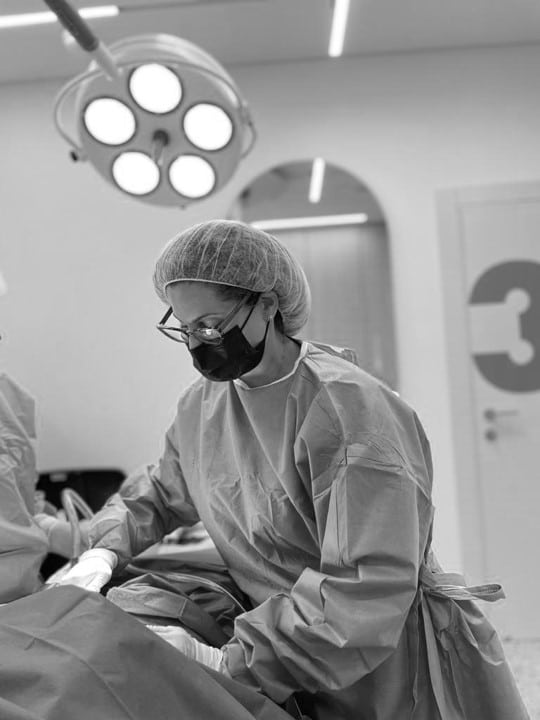 If you are reading this 'Mommy Makeover' page, you are probably a mother of at least one child.
But after losing weight gained during pregnancy do people still say 'Congratulations…when are you due?'' when they meet you?
Do you feel that despite regular sports activities and a strict diet, you just cannot regain your previous figure? Your stomach has stubborn excess fat, you are not as care-free as you used to be when going to the beach and find yourself choosing clothes that hide your current figure?
If you identify with the above…it is totally understandable. People say, "Accept yourself, love what you see." Although I very much agree with that, I think it is better to be honest with ourselves. Look in the mirror, accept what bothers you the most, what you like and what you do not, with complete honesty.
Most mothers naturally feel that pregnancies, births and breastfeeding have affected their body and find it hard to accept the appearance of their body after having children.
Unfortunately, most even experience frustration and disappointment that despite dietary changes, crash diets or regular sports activities they simply cannot reach the desired result and feel good and comfortable about their appearance.
After pregnancy, many women encounter sagging tissue, excess skin, excess fat and muscle weakness in the breasts, abdomen, waist, pelvis and hips.
In young mothers, the body usually knows how to deal with the consequences of childbirth and gradually regains shape and tone, however, older mothers encounter stubborn excess fat tissue that they see every morning when they look in the mirror.
Of course, genetics also play a part here. Some postpartum women suffer from prominent stretch marks or breasts that have lost their shape and volume and may sag.
Mommy Makeover combines treating several areas of the body in one surgery to restore your body to its previous shape.
This surgery focuses on a broader process related to our need as women to strengthen our body image, self-esteem and self-confidence and establish a greater sense of satisfaction from ourselves. When we feel good about our body, it has a general impact on our happiness and when we receive compliments on our appearance, we feel more confident in ourselves.
Excess abdomen fat and skin after giving birth can be divided into several categories:
In case of excess fat, liposuction can be performed to help shrink skin which leads to the disappearance of excess skin.
In the case of excess skin and excess fat tissue, that mainly accumulates in the area below the navel, it is possible to perform a mini tummy tuck which involves removing excess skin and fat tissue.
In case of muscle laxity with excess skin and excess fat tissue, a complete tummy tuck is necessary, which includes separating the abdominal skin from the navel and removing the excess as well as tightening the muscles and repositioning of the navel.
If you have had more than one Caesarean section, the incision can be made along the scar from the Caesarean section, thereby avoiding additional scarring in the area.
In any case, this surgery can only be performed six months after giving birth or after you have stopped breastfeeding, to allow the body to recover naturally as much as possible.
In the distant past breast surgery and tummy tuck surgery were performed in two separate surgeries, but today these two procedures are combined into one surgery. As surgery techniques advance the confidence and safety increases and more and more combined surgeries are today performed, that allow beautiful results and dramatic change in the same procedure, both in abdomen and breast surgeries that include augmentation, augmentation and lifting and breast reduction.
כותרת סרטון הדר ישראלי מדברת על ניתוחי חזה

A Personal Tip:
Today you realize that you and your body deserve to look good and you can restore your body appearance to as it was before motherhood. This surgery is a confidence boost, allowing you to once again accept and love yourself when you look in the mirror and see yourself exactly how you want to be seen".

Before the Procedure
During the Procedure
Results and Recovery
Before the Procedure
As before any surgery procedure, I will require your full medical history including allergies, medical treatments and previous surgeries.
In recommend you stop taking vitamins and dietary supplements before surgery.
You must stop taking blood thinners such as Aspirin, Plavix and Clexane, which affect blood clotting times, ten days prior to surgery.
I recommend you stop smoking one month before and after surgery.
A comprehensive examination of the breasts, abdomen, buttocks and if you are also interested in genital procedures, measurement of the shape and size, skin quality and thickness is also required.
Am I a suitable candidate for this surgery?
If you are not planning to have more children and suffer from stubborn excesses in various areas of the body, if your skin is loose and your breasts have changed shape and size after pregnancy and /or breastfeeding and now look like a pair of emptied bags, if excess stomach skin bothers you, it is recommended to consider Mommy Makeover surgery.
Other groups of women who may be suitable for this type of surgery are women who have undergone bariatric surgery for weight loss or older women who are not satisfied with their body appearance, whether they have already undergone any medical procedure or not.
During the Procedure
Results and Recovery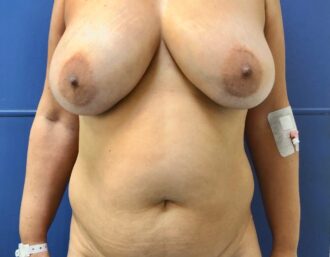 Before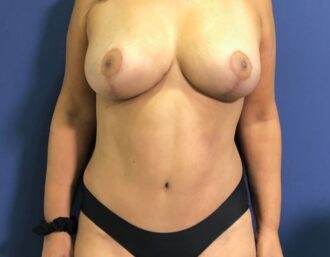 After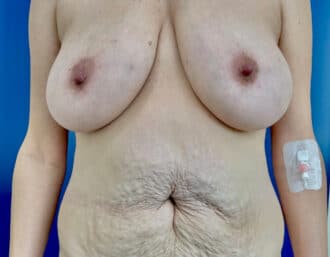 Before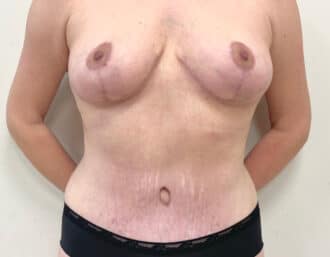 After
Before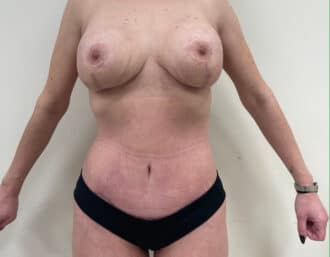 After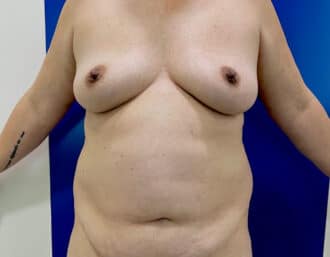 Before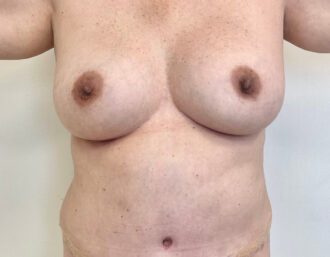 After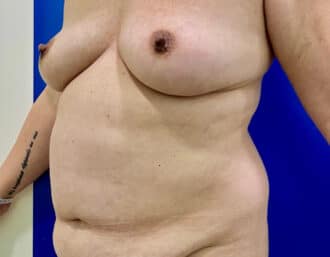 Before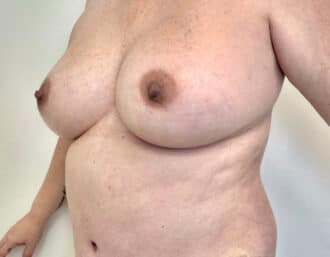 After
Complete your details & our team will contact you